In our previous post, we were giving away
50 Free Licenses for Comodo Internet Security Pro
. To be sure that the
licenses
were not being sent to
fake email
addresses, we sent one mail asking the winners to reply to the email before we sent them the
license code
. So that's 2 emails per winner X 50 winners = 100 emails to be sent. Copy pasting the template proved quite a hassle but it led me to email templates in Gmail.
How to Use Email Templates in Gmail
Gmail labs has a feature that allows you to make email templates that can be used to instantly reply to
common
emails.
To Access the Gmail Labs we need to click on the Green Test Tube on the right corner of Gmail. On this page Enable the
Canned Responses
feature. Click Save
Changes
.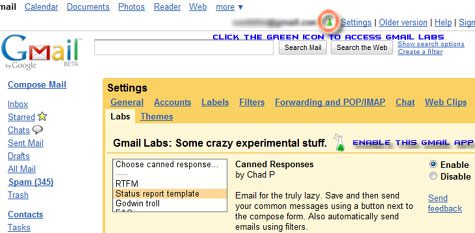 Now that the Canned Responses feature is available for our use, we are ready to setup some email templates.
Click Compose Mail or open
an email
you would like to reply to. Enter the message and click on the Canned responses button (appears below the Subject line). Gmail will now save the contents of the message you typed as a email template.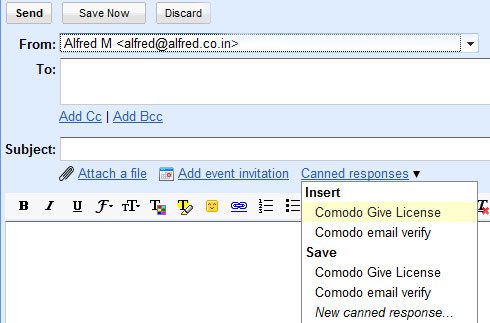 To use the template again in another email,
just
click Canned Responses and
choose the
template to insert.
Have any tips for us ? Share your comments below.
This post is about gmail templates,gmail template,gmail email templates,fake email template,email templates for gmail,gmail template
download
,gmail html template,gmail templates html,@aol @comcast @hotmail @gmail @yahoo loc:IN,google apps email templates,gmail email template,gmail html email templates,html email templates for gmail,gmail email templates html,template gmail,google mail templates.