Most of us have already downloaded Firefox 3. While the Mozilla page sets the number of
downloads
at more than 8 million in 24 hours, I am sure they missed a lot of download counts. Why ? Most bloggers downloaded
the software
from the FTP server before the official release.
To make up for the FTP lost count, I was
downloading
Firefox 3 again and realised that they actually give you a certificate for your effort to help them set a world record !! Its true, see the image below..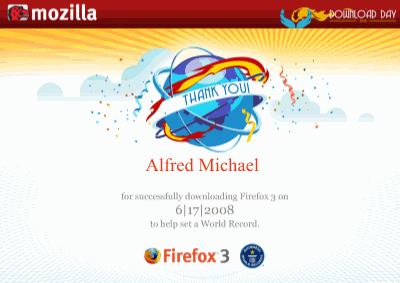 So if you have already downloaded Firefox, click here to get your certificate.
[ Firefox 3 certificate ]