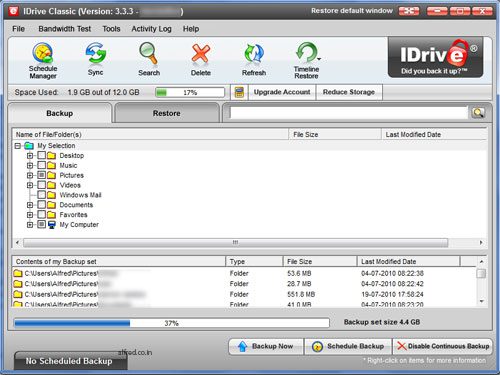 The most popular free
online storage service
is Skydrive, which offers a whooping 25GB of space for free. Now, who is going to
manually
upload 25GB worth of files through a web browser !
Skydrive Explorer
allowed accessing it like a network drive but even that was slow and unpredictable.
We had written about
Glide Gdrive
which offers 30GB of online space. Glide is a whole
cloud computing
package and can be quite interesting if that is what you are looking for. If you just want to store and back files online then the best service we have found till now is iDrive.
iDriv
e is an
online storage and backup service
that gives you 12GB of storage for your files. The first time you visit iDrive it just shows you a 2GB quota for free members. However once you register, you are given an option to spread the word about iDrive by letting them send promotional emails to your contacts. Fill it up and
your account
will get an additional 10GB worth of online storage absolutely free.
So besides the 12GB space, what does iDrive have to offer ?
It allows your to automatically backup selected files and folders. Folders can also be set to sync so that it remains the same and the contents of your computer. It automatically selectes My Documents to back but this can be changed to the folders you prefer.
Once you have chosen the folder you wish to backup I recommed you head to options and set the threshold for Bandwidth Usage
when the
computer is in use. This ensures that the backup process does not slow down your internet
activities
. Click the backup button to start a backup, alternatively you have
schedule
a backup that can start
at a time
when the computer is not in use.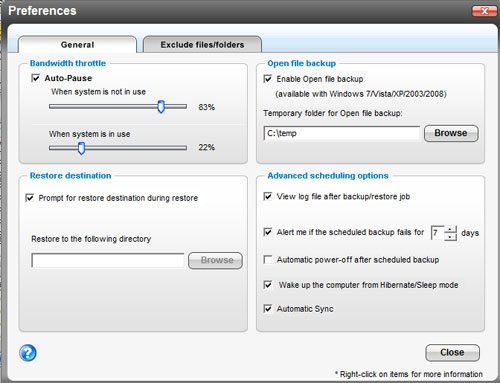 iDrive can also allow you to restore different versions of the backup you made to their servers. This is a very helpful utility if you accidentally modified or deleted a file.
Features of iDrive
Automatic

Selection
Continuous Data Protection (CDP)
True Archiving / Sync
Open/Locked File Backup
Mapped Drive Backup
IDrive

Explorer

Search and Restore
Time-Line Restore
Versioning
Retrieve data from any location
Web Based Backup Management
Manage multiple accounts
128-bit SSL encryption on transfers
256-bit AES encryption on storage

Scheduled

backup even if system is logged off
This post is about online storage sync,12gb online storage,free online storage with sync,online sync storage,online sync,online storage with sync,free online sync storage,free sync online storage,backup storage,online storage synch,online sync 10gb storage free,how to transfer 12gb online,online storage synchronization free,online sync top,upload 12gb for free,upload 12 gb for free.