Those of using Sony Ericsson phones must be familiar with the
PC Suite
software that comes with the phone. Since I am in the Philippines, I usually have to send a lot of SMS. This country is
unique
that people always send SMS and almost never call each other, due to high
call rates
. That is why its called the
text capital of the world
. Back on topic, since I spend so much time in front of the computer, I like to use the computer to receive and send SMS.
PC Suite software provided with the phones have one big problem. Every time you try to delete more than 10 text messages the program with crash and do nothing. Also didn't like the memory usage of this software. So how else can we do this ?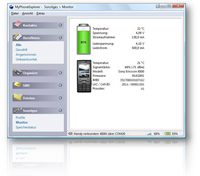 MyPhoneExplorer
is a
freeware
that allows to do
most common
tasks on your phone while its connected to the computer. You can sync the phone, send SMS, browse files, change phone
settings
and call people all without ever touching your phone.
To send and
check
SMS on your phone just connect the phone to your computer using the USB cable. Start MyPhoneExplorer, click File > Connect or (F1) and then click on messages. You can view all your SMS from this screen, you can even reply or create new messages here.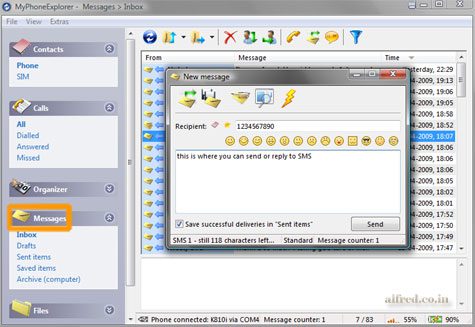 Another interesting feature of this software is its ability to sync the address book and
organizer
(calendar events) with common programs like Outlook, ThunderBird and Gmail among a few.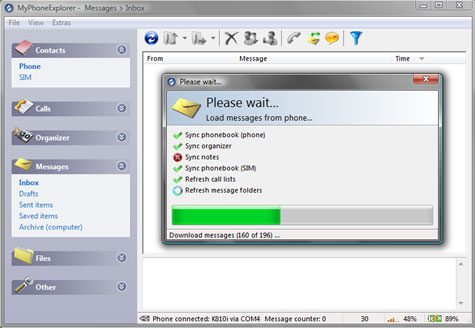 You can also browse your contacts on the phone and make calls to them using the phone. Once a call is made
the software
has options to turn on the speakerphone, control volume and send keypad tones. It also gives an option to make the call via skype.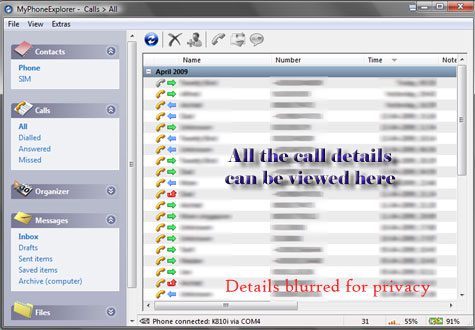 Know any other software that can do this ? Share with us by leaving a comment below.
This post is about sony ericsson send sms from pc,sony ericsson sms software pc,send sms using sony ericsson,sony ericsson sms sending software,sony ericsson sms pc,sony ericsson sms from pc,pc sms sony ericcson,sony ericsson
sms to
pc,send sms from pc sony ericsson,messages from sony ericsson to pc,sms via pc sony ericsson,how to send and receive sms using sony ericsson pc suite,send sms sony ericsson pc,sony ericsson send sms from computer,pc companion send sms,sony ericsson pc companion sms functie.